Char Ward
At each Sharing a Vision Conference, the Illinois Division for Early Childhood announces the recipient of a competitive award, the Jeanette McCollum Award for Service to the Field.
The Jeanette McCollum Award for Service to the Field is earmarked for an individual who meets the high standards of professional practice set by Jeanette, a leader in ECSE research and personnel preparation. Guidelines state that this award be given to an individual who has made significant contributions on a state, regional, or local level which have improved or will improve the lives of young children with special needs, their families, or those who work on their behalf.
The Award committee had a difficult task this year as we had excellent nominees - all who have significantly impacted the lives of young children and their families in Illinois.
Before announcing our newest award recipient, we would like to describe a few of the reasons she was selected for this prestigious award.
This year's recipient has been a direct service provider, staff development facilitator, university instructor, presenter at local/state/national conferences, NAEYC validator, and committee member and board member for numerous organizations. For the past 9 years she has coordinated STARNET Regions I and III ECSE Technical Assistant Training Project. Additionally, she coordinates the Apples Magazine satellite program, focusing on cutting edge early childhood topics. In her current roles, this year's recipient constantly seeks to ensure high quality training with a focus on developmentally appropriate practices.
She is described by colleagues as a mentor to other EC professionals and family members of young children, especially children with special needs. Her "nominators" report that she not only knows the principles of scaffolding children's learning, but she is able to apply these principles as she scaffolds staff learning too.
This year's recipient is passionate about the importance of providing quality services to young children and their families. She is an advocate of inclusion who has touched many lives in the 30+ years that she has been in early education.
By now I am sure that most of you have figured out that Dr. Char Ward is this year's recipient of the IDEC's Jeanette McCollum Award for Service to the Field. We are thrilled to present Char with this award. Please join us in congratulating Dr. Char Ward.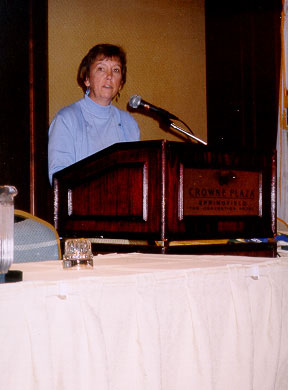 Micki Ostrosky announces the 2003 Jeanette McCollum Service to the Field awardee.
Return to the McCollum Award page.